Home
Welcome to my law practice
For more than forty years, I have used a "hands-on" approach to clients' problems. When a client hires me, I honor that trust by providing personally the legal services that are needed.
Civil litigation has been the cornerstone of my law practice. Whether suing or defending, I have represented individual and corporate clients in many types of cases:
Residential and commercial construction disputes
Commercial and consumer contract disputes
Wrongful denials of insurance claims
Deceptive trade practices (major transactions)
Administrative law
Defense of legal actions brought by state agencies
Civil appeals
General consultation to individuals, businesses and other organizations
My law practice is built on three things: knowledge of the law; years of experience gained from resolving hundreds of clients' problems, whether in the conference room or the courthouse; and, a commitment to listen carefully to and communicate fully with each client to make sure that the services provided are exactly what the client needs.
Call today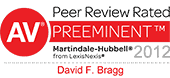 Law Office of David F. Bragg
A Professional Corporation
Bastrop, Texas 78602
Telephone: (512) 496-9031 (Austin metro)
Telecopier: (512) 581-0245 (Austin metro)
Email:  dfbragg@sbcglobal.net